Who is ready for a three day weekend?
Featured Products
I sure am. These past two weeks have been crazy busy as I am trying to get as much work done before summer officially starts for me and I head off to my favorite place in the world for a couple of weeks! There is rain in the forecast here in Denver over the weekend but we are fully planning on barbecuing every chance we get! We actually just got a new barbecue the other weekend and both of us are so excited about it, haha. Oh, domestication :) My dad has an unbelievable, fall of the bone, secret recipe for ribs and I can't wait to make them! What's your favorite thing to make on the grill?
Need some ideas? Below I rounded up five of my favorite grill recipes including this spicy barbecue glazed corn featured on the blog last summer!
Balsamic Grilled Vegetables 
Ingredients
Directions
In a medium saute pan over medium heat, add vinegar, sugar, and honey. Let simmer for 15 to 20 minutes or until reduced by half. Keep warm for glazing on grill.
In a 1 gallon re-sealable bag, add the balsamic vinegar, olive oil, sea salt, pepper, and garlic and mix until combined. Next, add the carrots, celery root and onions, remove excess air. Allow to marinate for 30 minutes. Then add the zucchini and squash and allow to marinate for 10 more minutes.
Preheat grill to medium-high.
Brush grill with oil. Add onions, carrots and celery root. Cook on both sides for 3 to 5 minutes brushing with balsamic glaze. Mark and brown evenly on both sides. Remove to holding pan and cover with aluminum foil. Add squash and zucchini to grill, brush with glaze and cook for 2 minutes per side, until marked and evenly brown. Remove to holding pan, and cover until service.
Drizzle veggies with remaining glaze and serve on a warm platter.
| Recipe borrowed from here.
Grilled Vegetable Pizza 
Ingredients
White Hamon sweet potatoes
2 Small Eggplants
2 tsp. red peppers
½ c. olive oil
Salt and freshly ground pepper
2 lb. frozen pizza dough
1½ c. tomato sauce (your own recipe or store-bought)
3 c. shredded low-fat mozzarella
fresh basil
Directions
Heat a grill to medium-high. In a large bowl, toss vegetables with ¼ cup olive oil and 1 teaspoon each salt and pepper. Grill in batches until softened but still crunchy,about 10 minutes for sweet potatoes, 8 minutes for eggplants and peppers. Transfer to a plate and set aside.
Roll out dough to two 9-by-18-inch pizzas, about 1/8-inch thick. Brush one side of each pizza with 1 tablespoon olive oil, season with salt and pepper, and grill with oiled side facedown on grates for 9 minutes. Brush other side of pizzas with remaining olive oil, then flip and grill until cooked through, about 9 minutes more. Spread tomato sauce over pizzas and top with grilled vegetables followed by mozzarella. Close grill cover, or tent with aluminum foil, until cheese is melted, about 2 minutes. Garnish with basil.
| Recipe borrowed from
here
.
Grilled Potato Salad with Bacon Vinaigrette
Ingredients
3 lb. baby Yukon gold potatoes (about the size of a walnut halved)
Kosher salt
black pepper
6 tbsp. olive oil, divided
6 slices center-cut bacon cut into 1/2 in. pieces
2 garlic cloves, very finely chopped
1/4 c. apple cider vinegar
2 tsp. firmly packed brown sugar
8 scallions
2 tbsp. fresh marjoram, plus more for garnish
Directions
Heat grill to medium-high. Line a plate with paper towels.
Place potatoes in a large saucepan and cover with cold salted water by 2 inches. Cover and bring to a boil, reduce heat and simmer until easily pierced with a knife, 14 to 16 minutes. Drain and let cool. Transfer to a bowl and toss with 2 tablespoons of oil.
Meanwhile, cook bacon in a large skillet over medium heat, stirring occasionally, until crisp, 5 to 7 minutes. Remove to prepared plate with a slotted spoon.
Discard all but 1 tablespoon of bacon drippings from skillet. Off the heat, add garlic, vinegar, and brown sugar to the drippings in the skillet, scraping up any browned bits. Whisk in remaining 4 tablespoons oil. Season with salt and pepper. Transfer to a bowl.
Grill potatoes cut-side down until lightly charred, 2 to 3 minutes. Grill scallions, turning occasionally, until charred, 4 to 6 minutes. Chop scallions into 1-inch pieces.
Add potatoes, scallions, and marjoram to bowl with dressing, and toss to coat. Let stand for 5 minutes. Sprinkle with bacon, and toss to coat. Season with salt and pepper. Garnish with marjoram. Serve immediately.
| Recipe borrowed from here.

Barbecue Glazed Corn
Ingredients
Four ears of corn
1/4 tsp black pepper
1/4 tsp paprika
1/4 tsp cayenne pepper
2 garlic cloves, chopped
1/8 tsp crushed red pepper
1 tbs honey (I usually use agave!)
Directions
Mix all the ingredients together in a bowl. Brush the glaze on all sides of the corn. Place on the grill for 15-20 minutes, turning every 5 minutes, or until kernels are tender when pierced with a paring knife.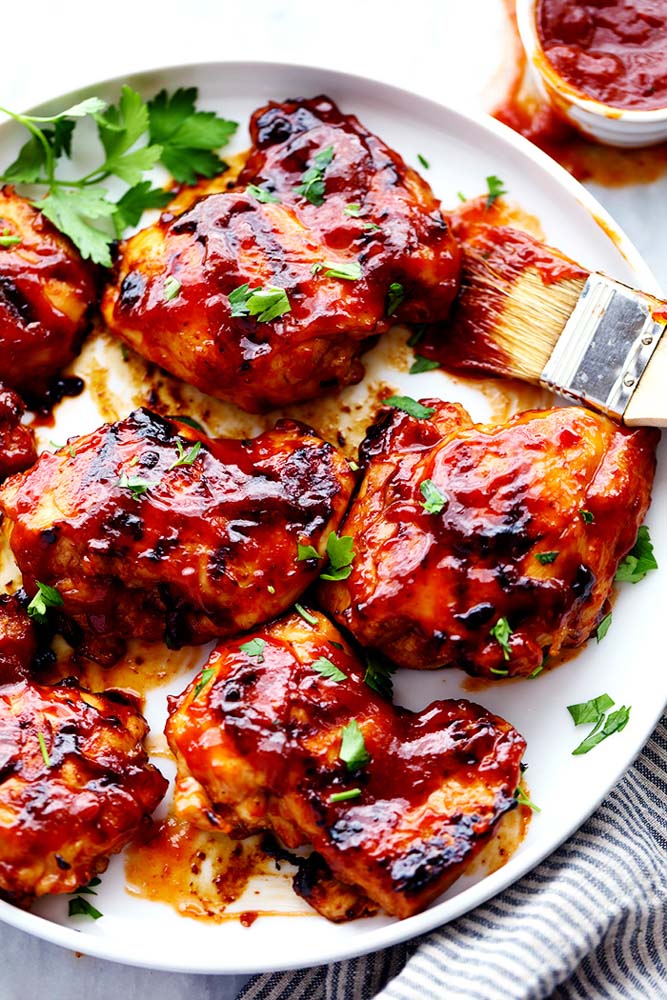 Honey Chipotle Barbecue Chicken
Ingredients
2 pounds boneless skinless chicken thighs or breasts
¾ cup ketchup
2-3 chipotle peppers in adobe sauce
2 tablespoons cider vinegar
2 tablespoons brown sugar
1 tablespoon worcestershire sauce
¼ cup honey
½ teaspoon salt
½ teaspoon garlic powder
½ teaspoon ground cumin
¼ teaspoon black pepper
Directions
In a blender or food processor combine ketchup, cider vinegar, brown sugar, Worcestershire sauce, honey, salt, garlic powder, cumin, and black pepper and blend until smooth.
Preheat grill to medium high heat. Salt and pepper the chicken and add to the grill. Baste the chicken generously, turn over after about 2 minutes and baste again. Cook until the chicken is 165 degrees and no longer pink in the center. Baste one last time before serving.
| Recipe borrowed from here.
SHOP BARBECUE ESSENTIALS