How we endure game day.
As you all know, football is not big in our household. Actually, it's non existent. However, our families are big into watching the Sunday game, so Jeremy and I have learned to create our own take on enjoying watching football. Food and drink. It really is the best part.
With the BIG game coming up this Sunday, we are prepping for an afternoon of delicious food, cocktails, beer, and hanging with our friends. How we prefer to watch football! When it comes to a football watching spread, my friends at Babbleboxx gave me the best solution to making hostessing the easiest thing on game day.
Inside my box was the ultimate package for game day! Garden of Eatin' chips, BIG AZ Sandwiches Hot'n'Ready Sandwiches, Full Sail Brewing – Session Premium Lager, and two Better Bean dips! I literally did not need to do anything other than set out this game day spread! Everything is so delicious and makes hostessing game day that much better.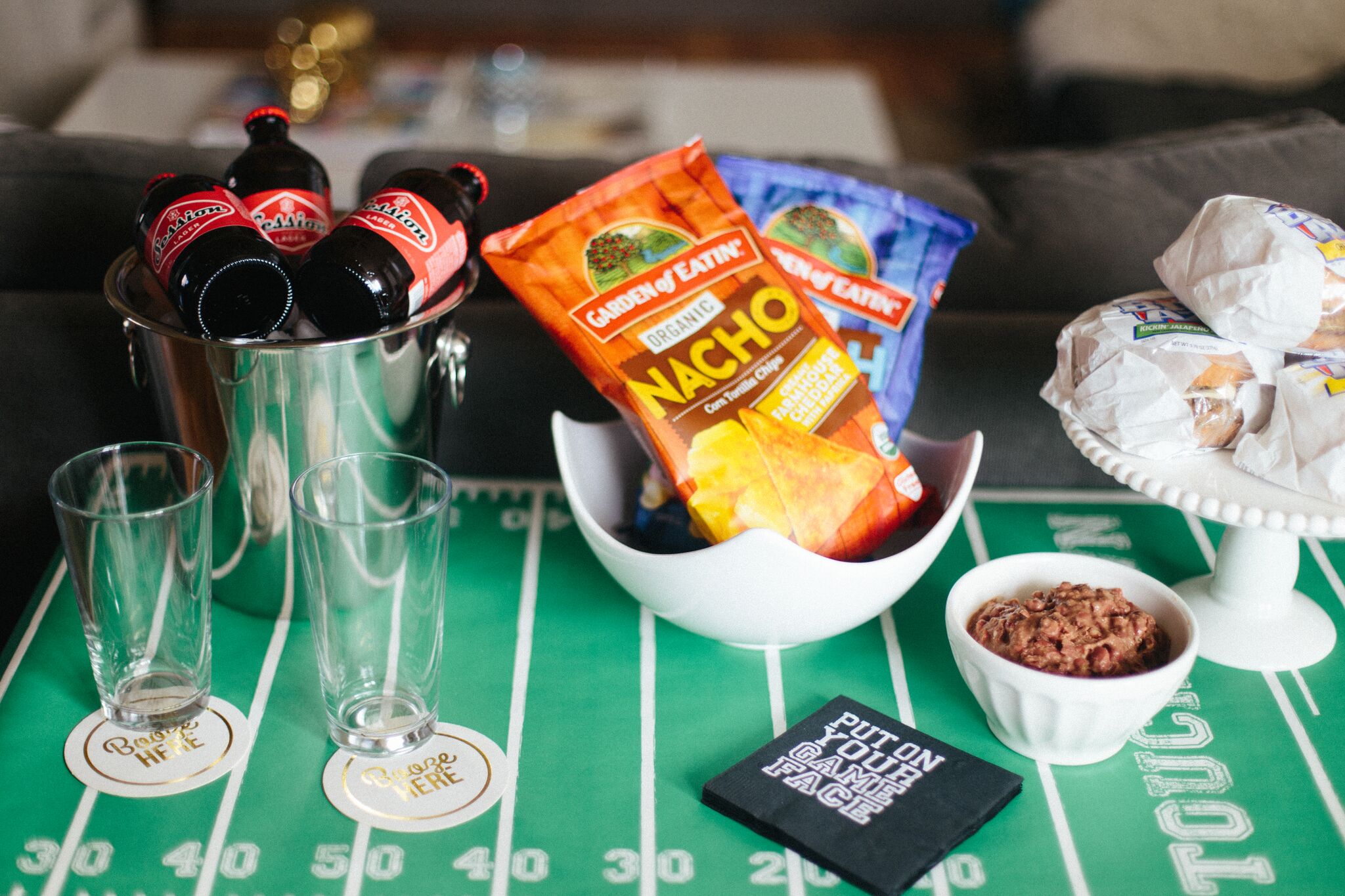 For this set up I chose to put everything out on the table behind our couch for east access to snacks during game time. This allows for a great "mingling" area for guests too! I love this touchdown paper from Swoozies! It makes for the perfect themed decor for any football watching party.
When it comes to game day snacks there are endless options you can add to your spread. The best advice I can give is to keep things simple with these key staples!
Garden of Eatin' chips ® – I am such a chip lover! Love, love chips! It's so random, but I could snack on chips all Sunday long. I love these Garden of Eatin' chips. All Garden of Eatin'® products are made with the best quality natural and organic ingredients, so you know they are good for you!
BIG AZ Sandwiches Hot'n'Ready Sandwiches – The Hot 'n' Ready line of quality lunch and breakfast sandwiches offers homestyle flavor and goodness. I love these sandwiches because they come wrapped and ready to heat up, no fuss necessary! Set out any sandwich 'fixings' for your guests to add to their sandwiches for an easy game day meal!
Full Sail Brewing – Session Premium Lager – I am not a beer drinker, I much prefer a glass of rosé on any given day, especially when it comes to watching football. But this Lager is a great crown pleaser! It has a all-malt lager that's crisp, smooth, and refreshing and satisfies any beer lovers taste buds.
Better Bean – A great side addition to this spread, Better Bean beans contains high-quality ingredients from organic or sustainable farms as they grow better flavor. The recipes are naturally delicious, not relying solely on sodium, fat and sugar – or worse, chemical additives. Use these beans to make a great dip with chips – find recipes here.
Photos by Pure Lee Photography
This post is sponsored by BabbleBoxx.com on behalf of Single Edition Media.