Nut lovers, rejoice!
Special thanks to The Gingerbread House for sponsoring this post. 
Where are my nut lovers at?? Breakfast around the holidays always feels tricky to me. I never want to eat too much the morning of Thanksgiving or Christmas dinner knowing how much will be served that evening so I always try to stick to something light. This Nut Roll by The Gingerbread House is THE perfect (and most delicious) pastry to serve for a holiday breakfast to start off your day. It also comes as a gift-ready, hosting-ready solution for Thanksgiving, Christmas, and Easter in a beautiful ready to serve box!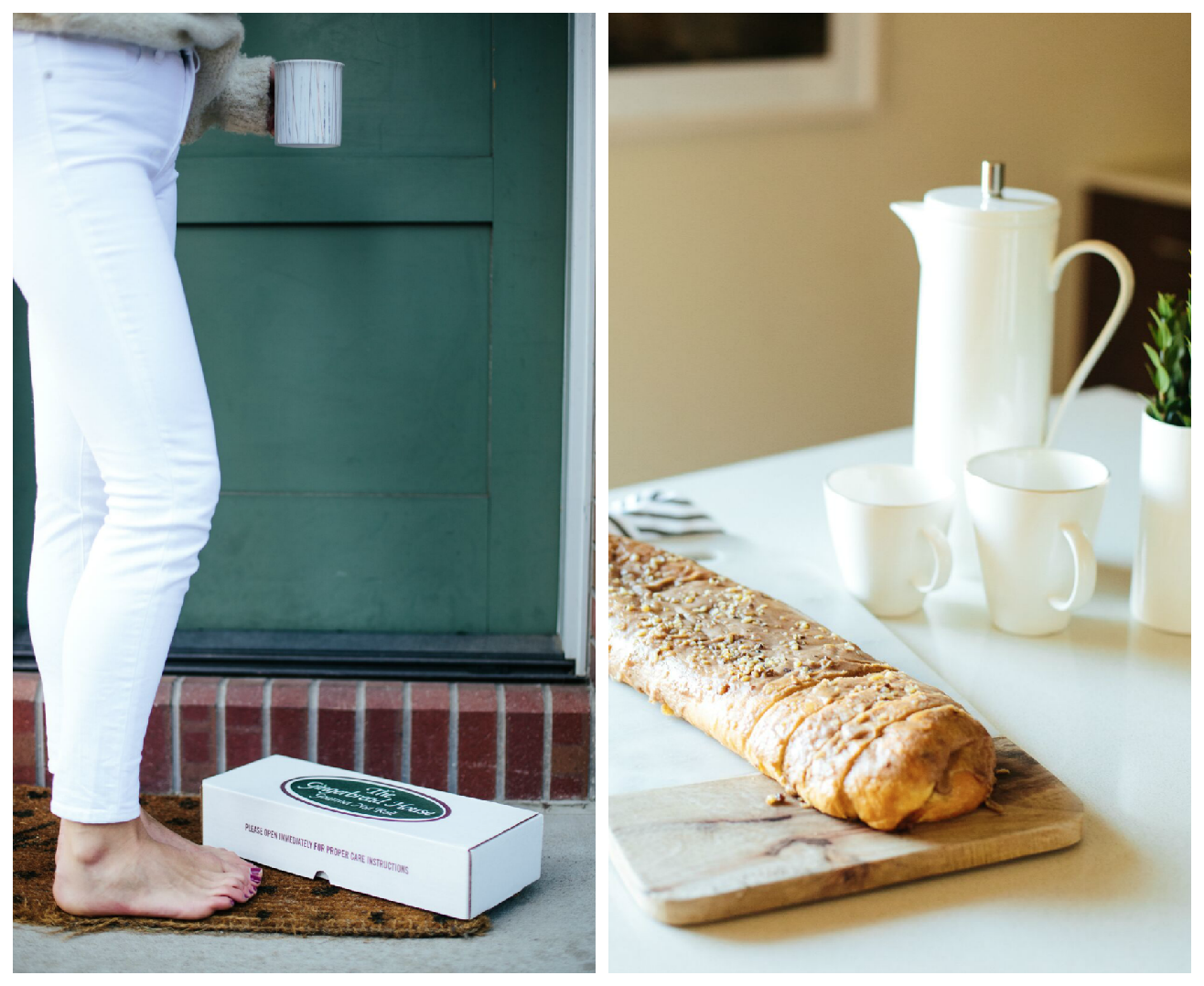 Made with Real butter, fresh eggs, the freshest, highest quality walnuts, and NO ADDED PRESERVATIVES! There is simply nothing else like the Gingerbread House Nut Roll. I love that this company is family owned, staying true to their recipe for 65 years! It makes you feel like a family member sent you something specially homemade! The roll is absolutely delicious and definitely a crowd pleaser for the holidays, especially for my nut lovers out there! Additionally to serving the nut roll to friends and family, this also makes for the perfect hostess gift!
To serve a simple holiday breakfast with a nut roll, pair this delight with mixed berries and a delicious sip! I am a huge fan of an almond milk eggnog! Serve in individual milk jars, adding cinnamon to the rim for some extra festive flavor! You also can serve the nut roll as dessert, an afternoon holiday snack or give as a holiday gift!
Winston and I are such a fan of this family run company! Order your holiday nut roll today!
To purchase a Gingerbread House Gourmet Nut Roll for yourself or as a gift, go to www.gbhnutroll.com/shop.  Be sure to use promo code TEHGBH for 10% OFF!
| | |
| --- | --- |
| | The Gingerbread House Nut Roll Online Shop where you can purchase nut rolls for yourself, family, friends, clients, or staff.  Also, use your promo code to support your organization's fundraiser! |
| | |
| --- | --- |
| | Real butter, fresh eggs, the freshest, highest quality walnuts, and NO ADDED PRESERVATIVES! There is simply nothing else like the Gingerbread House Nut Roll.  Enjoy it this Fall or take one to your next Christmas party.  For your convenience on orders with multiple addresses, call (440) 965 |
SHOP THE POST