We are officially 72 hours out from hostessing thanksgiving, now don't panic. I've got you covered with a few simple things to do this week plus some last minute recipes ideas!
Tips to get you ready to host Thanksgiving!
First things first, clean out your fridge! Get rid of anything that has gone bad and try to cook up meals the next three days using all the you can so nothing goes to waste. I love making big salads, roasting all my veggies or making rice bowls with anything I can find in the fridge.
Second, make sure you have the essentials such as olive oil, butter, spices, salt and pepper.
Next, plan your meal! Make sure you have a set menu with a grocery list of all the ingredients you need to go to the store and buy! And don't forget the wine!
Now lets meal prep! Do as much as you can over the next three days! Make your pie, chop your veggies, do anything and everything you can do ahead of time so you are 100% ready to go!
Last Minute Thanksgiving Recipes
One thing to make sure to do before you begin cooking is empty your dishwasher! That way you can run all the dishes you cook with before or during dinner and it will be ready for the rest of the dirty dishes!
Roasted Rainbow Carrots with Ginger
INGREDIENTS
2 pounds rainbow carrots, peeled and cut crosswise into 3-inch pieces
3 teaspoons olive oil
1/2 tsp kosher salt
freshly ground black pepper, to taste
1 teaspoon finely minced ginger
2 tablespoons chopped cilantro
DIRECTIONS
Preheat oven to 425 degrees.
In a large bowl, combine carrots, 2 teaspoons olive oil, salt, pepper and ginger.  Toss to evenly coat.  Place carrots on a parchment lined sheet pan and roast for 30-35 minutes or until caramelized and tender, stirring once halfway through.
 Drizzle with the remaining teaspoon of oil, add cilantro, carefully toss and serve.
Recipe and Image borrowed from here.
Garlic Sweet Potato Mash
INGREDIENTS
2 lbs (4 medium) sweet potatoes, peeled & cubed
1 tbsp butter
3 cloves garlic, crushed
1/2 cup 1% milk
2 tbsp light sour cream
salt and fresh cracked ground pepper, to taste
DIRECTIONS
In a large pot boil sweet potatoes in salted water until tender, drain in a colander.
Meanwhile, melt butter and sauté garlic until lightly golden.
Return potatoes to the pan, add milk and sour cream; mash until smooth and creamy. Adjust salt and pepper to taste.
Recipe and Image borrowed from here.
Broccoli and Brussels Sprout Salad
INGREDIENTS
1 lb. (500 g) brussels sprouts, thinly sliced
1 or 2 heads broccoli, cut into very small florets
1/2 red onion, finely sliced
1/2 cup (250 ml) walnut oil
1/4 cup (60 ml) balsamic vinegar
Zest of 1/2 lime
2 teaspoons Dijon mustard
1 teaspoon honey
Kosher salt and freshly ground pepper
1/2 cup (60 g) pomegranate seeds
1 cup (125 g) walnuts, chopped
DIRECTIONS
In a large bowl, combine walnut oil, vinegar, mustard, honey, lime zest, a pinch of salt and ground pepper. Add brussels sprouts, broccoli and red onion and toss to combine and coat well. Adjust seasoning with salt and pepper.
Arrange on a serving platter, sprinkle the pomegranate seeds and walnuts over the salad. Enjoy!
| Recipe and Image borrowed from here.
Slow Cooker Sausage Stuffing
INGREDIENTS
one pound loaf French bread, diced into 1-inch cubes and allowed to dry out for about 12 hours
1/2 cup (1 stick) unsalted butter, diced into 1/4-inch pieces
1 extra-large sweet Vidalia or yellow onion, diced small (about 2 cups)
1 cup celery, diced small
3 tablespoons fresh rosemary (sticks discarded), finely minced
3 tablespoons fresh sage (stems discarded), finely minced
2 tablespoons fresh thyme (sticks discarded), finely minced
1 teaspoon salt, or to taste
1/2 teaspoon freshly ground black pepper, or to taste
1 1/2 cups low-sodium chicken broth
1 pound ground Italian sausage (I used hot but you can use mild; sausasge should be raw and the not precooked type)
1/4 cup fresh flat-leaf Italian parsley, or to taste
DIRECTIONS
Place bread inside a 6-quart slow cooker that's been lined with a slow cooker liner or sprayed with cooking spray. Allow bread to dry out and become stale for about 12 hours (overnight).
The next day, add the butter, onion, celery, rosemary, sage, thyme, salt, pepper, chicken broth and stir to combine.
Evenly crumble the sausage in small, bite-sized pieces over the bread mixture.
Cover and cook on low for about 4 to 5 hours, or until vegetables are tender and sausage is cooked through. All slow cookers vary in their intensity so cook until done.
Stir the sausage into the bread mixture, taste, and check for seasoning balance. Add more salt, pepper, or additional herbs if desired, to taste.
Add the parsley and stir to incorporate. Cover and cook for 5 minutes before serving (Adding the parsley at the end allows it to stay green, vibrant, and lends nice visual appeal). Stuffing will keep airtight in the fridge for up to 5 days.
| Recipe and Image borrowed from here.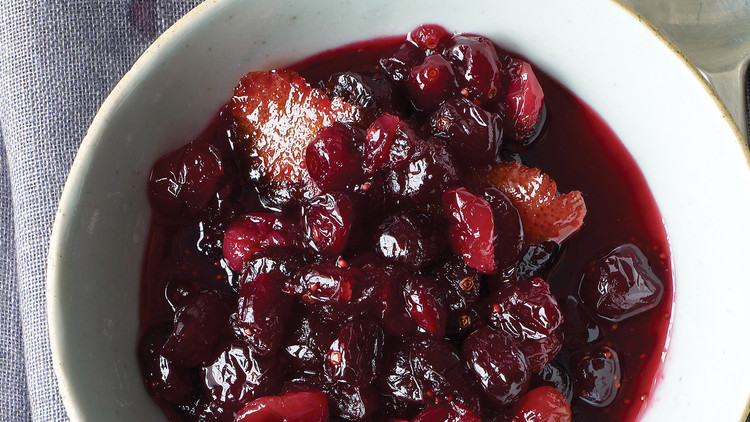 Orange Scented Cranberry Sauce
INGREDIENTS
DIRECTIONS
In a medium saucepan, combine cranberries, sugar, orange zest, and 1/2 cup water; season with salt and pepper. Bring to a boil over medium-high. Reduce to a simmer and cook until thickened, 20 to 25 minutes. Remove from heat and stir in orange juice.
| Recipe and Image borrowed from
here
.
Mini Apple Pies
INGREDIENTS
1 package (14.1 ounces) refrigerated pie crusts, (2 crusts)
3 Granny Smith apples, peeled, cored and coarsely chopped
1/4 cup firmly packed brown sugar
2 teaspoons flour
2 teaspoons vanilla
1 teaspoon ground cinnamon
For the topping: 
1/4 cup firmly packed brown sugar
1/4 cup flour
2 tablespoons cold butter, cut up
1 teaspoon cinnamon
1/4 cup chopped walnuts
DIRECTIONS
Preheat oven to 425°F. For the Mini Apple Pies, unroll crusts on lightly floured surface. Using a 3 1/2-inch round cutter, cut out 6 rounds from each crust. Re-roll scraps as necessary. Press dough rounds into muffin pan sprayed with no stick cooking spray. Set aside.
Toss apples, brown sugar, flour, vanilla and cinnamon in large bowl. Divide evenly among crusts.
For the Topping, mix brown sugar, flour, butter and cinnamon in medium bowl until crumbly. Stir in walnuts. Sprinkle evenly over apple filling.
Bake 14 to 18 minutes or until topping is golden brown and filling is bubbly. Cool completely in pan on wire rack.
Recipe and Image borrowed from here.