What better way to celebrate your best girls than with a "galentine's party"!
Featured Products
Happy Friday everyone! I hope you weekend is going to be full of fun! It is 80 degrees here in Denver today and feeling like spring! I can't believe it is only February though… I am dreading that snowstorm that I know is going to come through in the next week or so. In the meantime, it is feeling like spring and I am enjoying every minute of it!
Valentine's day is only a few days away and what better way to celebrate over the weekend (or day of) than with a galantine's day party! I love the idea of getting your girlfriends together over Valentines day, especially if you do not have a valentine. Your best girls are always there for you above anyone else, so this is the perfect time to celebrate them. This party is SUPER simple to put together and you only need a few additional things. It can either be a Sunday brunch or a sweet little dinner party. Either way your girls will be so excited to walk into this sweet little table setting and to celebrate your best friends!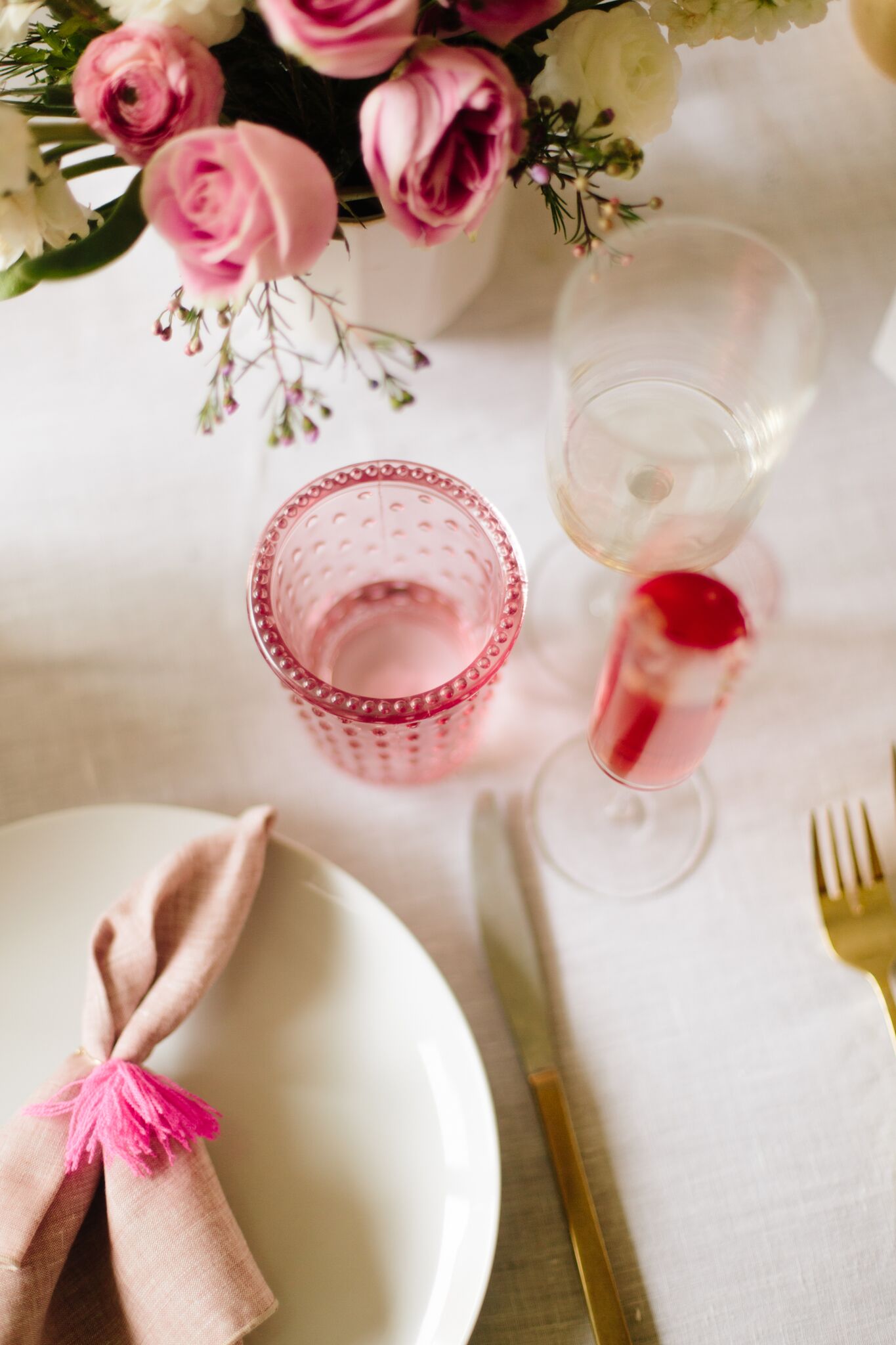 I was a one woman show putting this table setting together! I have to say I am pretty impressed. And even more convinced that anyone can be The Every Hostess! All you need is a little patience and to get inspired and follow along this blog :) First, I completely scored at Whole Foods with flowers. I put this shoot together very last minute and didn't want to bother a florist friend to create something beautiful for me, so I decided to venture to Whole Foods and see what was in stock. One of the downfalls of living in Colorado is they only allow people with wholesale licenses to purchase flowers at the flower wholesaler, so you have to work with what you got. Sometimes Whole Foods can be a hit or miss and you have to get creative, but this time was a total hit! I mean, look at these blooms! Putting together the arrangement took a little patience and creativity. Always start with your greens (waxed blooms in this case), then add your biggest flower to smallest. Also, don't go crazy adding in everything at once, you can always go back and add more.
Second, the table setting is super simple to set up! I found tassel wine charms from Target in the dollar section, making the perfect napkin ring! I am a huge fan of my white plates and West Elm gold silverware, as I am sure you well know it makes many appearances in my table settings. However, I always try to show you that you can do different things with the same table settings. For glasses, I found these adorable pink hobnail candle holders from Target as well (Target + Whole Foods for the win!), one quick wash in the dishwasher and they make the perfect drinking glasses for a galantine's table!
Lastly, sweet little gifts for your guest is the perfect final touch. I love the idea of a party favor for a galantine's soiree, anything from a Sugarfina candy cube, to a lip gloss and nail polish, or a simple ring (I love this one from Gorjana)! Have fun with it!
SHOP THE POST
Photos by Pure Lee Photography