Are we sick of pumpkin yet?
I think I have a few more weeks of soaking up fall in me before I am going to dive head first into Christmas! This is the best recipe to make for one last pumpkin whoorah! They are so deliciously gooey with a hint of spice and delicious creamy middle! I highly recommend making these if you are attending a potluck thanksgiving or friendsgiving! The best thing about recipe testing is that I can send Jeremy to work with all of these treats! He is constantly winning points with his co-workers! It's so much fun being able to bake for them. Confession, I actually never try any of my baked recipes. Mainly because I am always on some sort of diet or healthy eating kick. Since the wedding though I have been allowing myself to indulge a bit more and thank goodness for that because I ate about four of these whoopie pies. Guys, they are to die for. SO delicious! You will be the hit at any party or office if you serve these!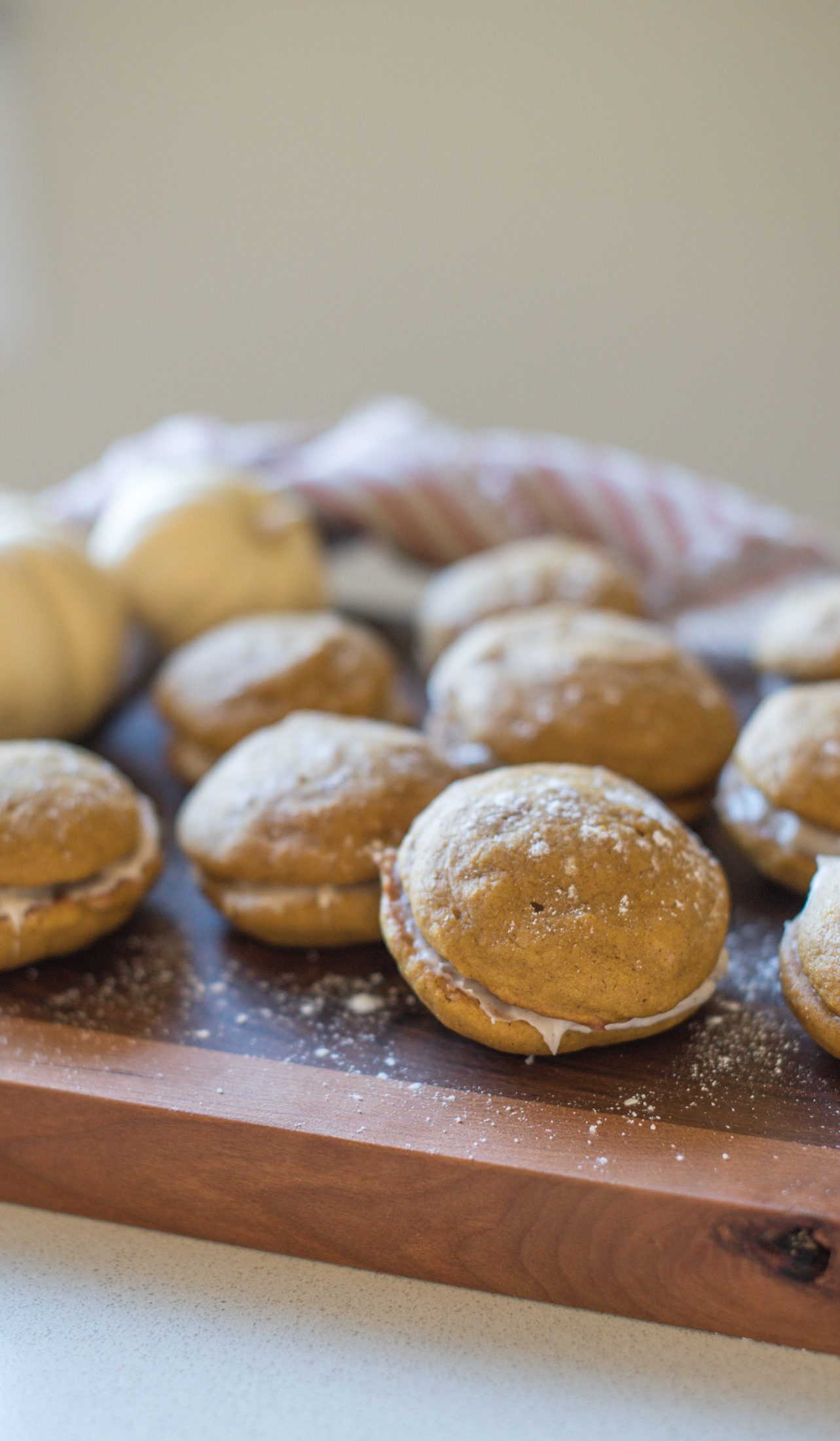 ---
Pumpkin Whoopie Pies
INGREDIENTS
3

cups 

all-purpose flour

2

teaspoons ground cinnamon

1

teaspoon 

baking powder

1

teaspoon 

baking soda

1

teaspoon salt

1

teaspoon 

ground ginger

1/4

teaspoon pumpkin pie spice

2

cups packed dark 

brown sugar

3/4

cup vegetable oil

1/4

cup 

butter, melted

2 3/4

cups canned pumpkin

2

eggs

1 1/2

teaspoons vanilla

1

recipe Maple-Brown Butter Filling
For the Maple-Brown Butter Filling: 
(I recommend doubling this recipe so you have plenty of cream to fill the cookies with!) 
5

tablespoons butter

4

ounces cream cheese, softened

1

tablespoon maple syrup

1/4

teaspoon ground cinnamon

1/4

teaspoon ground nutmeg

1/8

teaspoon salt

Dash ground cloves

3 – 3 1/2

cups 

powdered sugar
DIRECTIONS
Preheat oven to 350 degrees F. Line a cookie sheet with parchment paper. In a medium bowl stir together first seven ingredients (through cloves).
In a large bowl beat brown sugar, oil, and melted butter with a mixer on medium until combined. Add pumpkin, eggs, and vanilla; beat 1 minute. Add flour mixture, half at a time, beating well after each addition (batter will resemble thick cake batter).
Drop batter by tablespoons 1 1/2 inches apart onto prepared cookie sheet. Bake 12 to 14 minutes or until tops spring back when lightly touched. Cool on cookie sheet 5 minutes. Remove; cool on a wire rack.
Spread Maple-Brown Butter Filling on bottoms of half of the cookies, using about 2 tsp. for each cookie. Top with remaining cookies, bottom sides down; press gently to spread filling. Chill 30 minutes before serving.
For the Filling:
 In a small saucepan heat butter over medium-low heat until melted. Continue heating until butter turns a light golden brown. Cool for 15 minutes.
 In a medium mixing bowl beat browned butter and cream cheese with an electric mixer on medium speed about 2 minutes or until fluffy. Add maple syrup, cinnamon, nutmeg, salt, and cloves; beat on low speed until combined. Gradually beat in enough powdered sugar to reach spreading consistency.
NOTES: To store these, put them in the fridge for up to 3 days. You likely won't need to store them though, everyone is going to eat them immediately! 
---