Rule No. 5, never show up to someones home as a guest empty handed.
Alright guys, fun story for you! Years and years ago, pre Jeremy, I was flying to South Carolina to meet the parents of a boy I was dating in college for the first time! This rule always stuck with me as it was something my mother taught me. I wanted to bring his mom something beautiful so I bought a diffuser from this adorable shop in Fort Collins. I didn't think anything of it and put it in my carry on bag, wrapped beautifully! When I went through security I got flagged because the diffuser is filled with liquid more than 3 oz! How did I not think this through?!? Anyways, I was so worried I wouldn't be able to find another gift inside of the terminal so I refused to throw it away. They sent me back out of security to figure it out on my own. I was very flustered, nervous enough about meeting my boyfriends parents, and likely started to cry haha. I went across security to this little gift shop and happen to find these little bottles filled with glitter or something. So, I bought a bunch of them and poured the liquid from the diffuser into the small bottles so that the liquid would be contained in many 3 oz bottles. Yes, I realize how ridiculous this is. When I got to my gate I poured the liquid back into the main diffuser bottle, re-wrapped the gift and was on my way! His mom absolutely loved the diffuser and the fact I brought something to thank her for having me. Moral of the story, never show up empty handed! It's the best way to thank the hostess and win points :)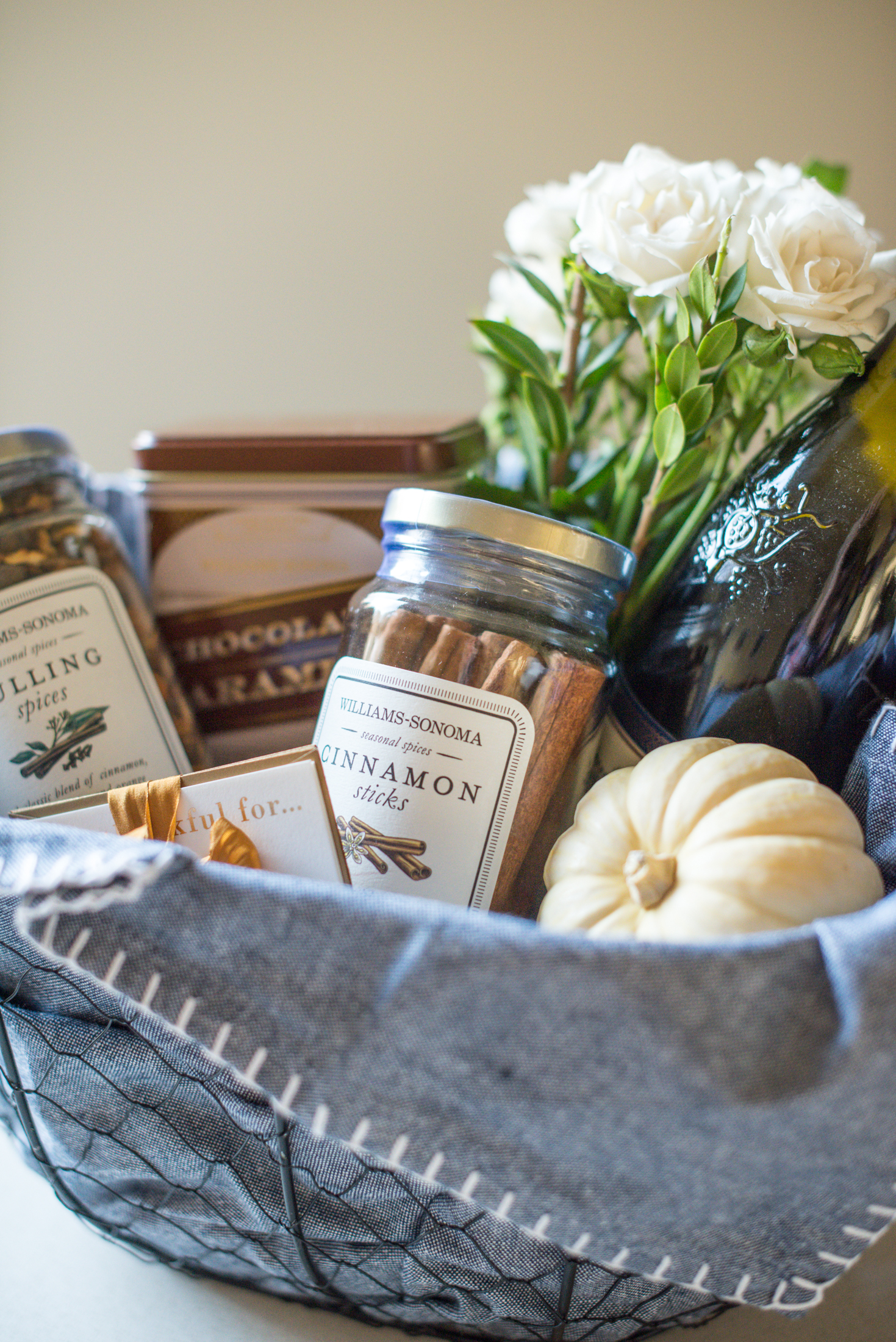 We are headed to Durango for a pre-thanksgiving celebration with my in-laws (it's so fun to finally be able to say that!) and I can't wait to spend some time with them! I was recently at Williams -Sonoma and come across these amazing mulling spices and cinnamon sticks which struck me as the perfect fall gift to bring to my mother in law!
If you are attending a thanksgiving dinner as a guest and are only requested to bring something small like a bottle of wine, I highly recommend stepping it up a notch and spoiling the hostess a bit more! They work so hard to put together a thanksgiving feast, so they deserve to be spoiled! In a basket, put together a few fun items including the mulling spices, cinnamon sticks, chocolates and a bottle of wine! I also love these "I Am Thankful For" cards as a fun hand out to all the guests at thanksgiving dinner! I little something for everyone!
SHOP THE POST